We're Getting Mutants in the MCU - The Loop
Play Sound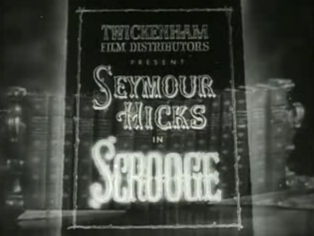 Scrooge is a 1935 film and the second film to feature Seymour Hicks.
Plot
[
]
Ebenezer Scrooge is an elderly, greedy, and cold-hearted money lender who rarely pays his clerk, Bob Cratchit. As the original book, two business men arrive in the courting house and asks for donations from Scrooge. However, he refuses and supports the prisons and workhouses and goes as far to say that prisoners better die and decrease the surplus population. After the two men leave, Scrooge catches Cratchit putting coal into the fire and threatens to fire him if he catches Cratchit again.
Later that night, Bob goes to celebrate Christmas with his family, while Scrooge dines alone. When he returns home, he hears the voice of his deceased partner, Jacob Marley and shows that if Scrooge does not change his ways, he too will carry chains himself and tells Scrooge that he will be haunted by ghost of Christmas Past, Present and Future. The ghost of Christmas Past shows Scrooge the memory of the loss of his fiancee due to their greedy nature towards others and a debt ridden couple. Scrooge sees his ex-fiancee is now married with many children. 
The Ghost of Christmas Present shows Scrooge how poor Bob and the family are as they only have a small Christmas dinner of goose and pudding. The spirit reveals that Tiny Tim will die of his illness if the future doesn't change. Scrooge then sees the Christmas Party he was at first invited to by his nephew, Fred. Finally the Ghost of Christmas Yet to Come shwos Scrooge what could happen the following year, such as discovering Tim dead and the man that was robbed and spoken of was himself and sees his own grave. 
Returning home a changed man, Scrooge orders turkey for Bob and his family, dines with his nephew, and gives  a large donation to the two men from Christmas Eve. He raises Bob's wages and promises to be a stepfather to Tim before they attend church together.
Cast
[
]
Sir Seymour Hicks – Ebenezer Scrooge
Donald Calthrop – Bob Cratchit
Robert Cochran – Fred
Mary Glynne – Belle
Garry Marsh – Belle's husband
Oscar Asche – Spirit of Christmas Present
Marie Ney – Spirit of Christmas Past (physical outline only)
C.V. France – Spirit of Christmas Future
Athene Seyler – Scrooge's charwoman
Maurice Evans – Poor man
Mary Lawson – Poor man's wife
Barbara Everest – Mrs. Cratchit
Eve Gray – Fred's wife
Morris Harvey – Poulterer with Prize Turkey
Philip Frost – Tiny Tim
D.J. Williams – Undertaker
Margaret Yarde – Scrooge's laundress
Hugh E. Wright – Old Joe
Charles Carson – Middlemark
Hubert Harben – Worthington
Claude Rains - Jacob Marley (voice, uncredited)
Trivia
[
]
This is one of the two films where Tiny Tim is seen lying dead as his father sits by his bedside and mourns him.
Ghost of Christmas Past is only seen as a meer outline. Only Ghost of Christmas Present is seen while the Ghost of Christmas Yet to come was only an outstretched pointed figure.
Beginning of the film takes place mostly before any of the ghosts appear. 
Fan and Fezziwig are omitted from the film.  
Charles Dickens's A Christmas Carol
Book:A Christmas Carol

TV Adaptations

"

The Christmas Carol

" •

A Christmas Carol (1954)

•

Mister Magoo's Christmas Carol

•

A Carol for Another Christmas

•

Rich Little's Christmas Carol

•

A Special Sesame Street Christmas

•

The Stingiest Man in Town

•

Bugs Bunny's Christmas Carol

•

A Christmas Carol (1982)

•

A Christmas Carol (1984)

•

Blackadder's Christmas Carol

•

A Flintstones Christmas Carol

• Ebbie •

Ebenezer

•

An All Dogs Christmas Carol

•

A Christmas Carol (1999)

•

A Christmas Carol (2000)

•

An Easter Carol

•

A Christmas Carol (2004)

•

Karroll's Christmas

•

Bah, Humduck! A Looney Tunes Christmas

•

Nan's Christmas Carol

• "

A Christmas Carol" (Doctor Who)

•

It's Christmas, Carol!

• "A Hearth's Warming Tail" (My Little Pony: Friendship is Magic) • "A London Carol" (The Suite Life on Deck)